I am so excited to have the opportunity to Co-Host this amazing Blog Hop. Gotta admit, I am kinda a link party junkie. Love a good party, love seeing what everyone is up to. But this particular party, is totally unique. Instead of linking up a blog post, you link up your social media accounts. Talk about growing your following. Be sure to check them out and follow at least a few new blogs. Don't forget to leave comments, so people know that you are checking them out 🙂
Our Guest Co-Host this week is Kat from Confessions of Perfect Mom. Kat is a stay at home mom of three girls who she home schools. Here blog is an honest look behind the scenes of what appears to be a picture perfect life on the outside, I know we can all relate to this from one time or another. Thanks for being with us this week Kat!
Our featured mama this week is Samantha from Substance and Soul!
First off can we please give Samantha a warm welcome to mommy life?! The girl seriously just had a baby like 2.5 weeks ago and already joining the hop! All of us being mamas ourselves we know how much support and words of love and encouragement she needs right now so please head on over and say hi!
Here we go! Don't forget to… 
**grab out button and display it proud for other mama's to get in on this action! 
**read the rules, link up and socialize!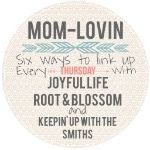 Please, if you are new to the hop or have been here but haven't left a comment, please let us know on our own respected blogs that you are a new follower (be sure to say HOW you are following) so we can follow you back! 
Also,
If you are interested in co-hosting FOR FREE shoot Hannah an email at hannahsjoyfullife (at) gmail.com to get on the list, growing your followers couldn't be easier!
Related Posts via Categories